Impact awards
CEWD is proud to debut its new Impact Awards that will honor excellence by individuals, companies, and consortia affiliated with CEWD for their leadership of workforce development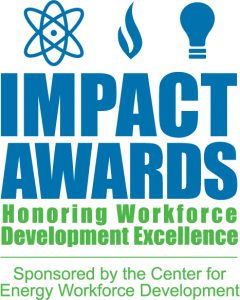 initiatives that will have a lasting impact on the development of a skilled, diverse talent pipeline for the energy sector.
The awards will be bestowed annually, during the Workforce Development Summit, after review and selection by a panel of independent professionals, from within the energy sector and other non-profit and workforce development leaders.
Nominations may be self-submitted or made on behalf of a deserving candidate.
2020 Impact Award Categories
Energy Workforce Game Changer Award
The award will honor one consortium annually for their programming and outreach to create and build awareness for energy careers within the state or region, support for members within the area, and involvement in CEWD supported programs.
Click here to nominate a deserving individual or self-nominate.
Community Partnership Award
This award recognizes a company for developing unique connections within the local community – with educators, minority facing organizations, workforce systems, or other groups – that have yielded demonstrated results in fueling the talent pipeline.
Click here to nominate a deserving company or self-nominate.
Workforce Champion Award
This award recognizes an individual who has shown extraordinary leadership in the workforce development arena, creating meaningful change that will influence, mobilize, and energize a diverse, skilled talent pipeline. Entries will be evaluated on demonstrated innovation, progress, and accomplishments within the nominee's company and/or community as well as leadership, mentorship, and stewardship for the industry and its professionals through support for local and regional workforce development activities, state workforce consortia, and/or CEWD initiatives.
Click here to nominate a deserving individual or self-nominate.
Chairman's Award for Workforce Development Leadership
This award, CEWD's highest honor, recognizes a company for excellence in general workforce development leadership. Entries will be evaluated against CEWD's workforce development priorities:
Promotion of 21st Century Careers in Energy
Achievements toward Diversity, Equity, and Inclusion goals
Innovation in approaches to training and upskilling
Enhancements to office culture and operations to attract and retain a skilled, diverse workforce.
Click here to nominate a deserving individual or self-nominate.