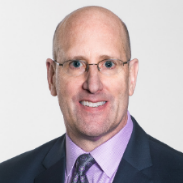 Ronald "Ron" Reising is Senior Vice President and Chief Human Resources Officer at Duke Energy. Ron joined CEWD's Board of Directors in October 2020. Recently, he shared his vision and passion about issues affecting the energy industry and how he hopes to contribute as a new board member.
Q: What excites you about the work of CEWD and where do you see opportunities for the organization as it continues to help ensure a pipeline of well-prepared energy workers?
A: Workforce development is such an important need for all the companies that are members of CEWD, and what's exciting to me is that through programs developed in collaboration with CEWD, we're helping people see new opportunities and advance their careers.
For example, we just launched a program in collaboration with St. Petersburg Community College. School officials, community leaders and Duke Energy representatives are all working together to develop a lineworker training program that's going to create job opportunities for individuals who didn't even realize they were good candidates for these roles. Here's a program that not only builds awareness, it also helps people develop their qualifications and ultimately get a great job. It is a great outcome, whether they land jobs with Duke Energy, another utility or with a contractor that supports an electric utility. In some of these programs, people have job offers before they even graduate. It's great to see how impactful and meaningful our work can be to the individuals and the communities we serve.
Q: How do you see the energy industry changing over the next few years? What do you think CEWD can do to help energy companies and their education partners prepare for these changes?
A: Traditionally, the electric industry has been driven by investment in central station power plants, but the industry is flipping now to a focus on distributed generation such as solar and wind. Batteries will also be part of the mix to provide system reliability. This requires a significant investment in the grid, whether it's transmission or distribution. There is also a very active debate going on about natural gas as a bridge fuel to support clean energy plans that target a net zero carbon footprint.
Finding enough qualified workers to support the existing level of transmission and distribution has been a challenge. It's a tough job, but it's also very rewarding. It requires a certain type of person willing to get up in the air or go out in a storm at any hour. It requires technical ability, a focus on safety, and a high level of teamwork. There's a growing need and we need to find ways to fill the pipeline while also creating a more diverse workforce.  CEWD has programs in place that directly support those goals and objectives and continuing to evolve those programs to align with the industry changes will be important. It is also a great benefit to learn from the other members, so platforms to enable members to learn from other members and applying best practices can be a real accelerator.
Q: Did you always know you wanted to be involved with the energy industry? How did you get to where you are now?
A: I started out in finance and then joined the telecommunications industry. I really liked being part of a core infrastructure business. When the opportunity came to join an electric utility, I saw it as an opportunity to join another core infrastructure business. To me, these services are foundational to the economy and quality of life that our customers want. We're serving the critical needs of our customers. I saw a presentation one time that talked about the top 10-15 inventions of the 20th century, things like refrigeration, computers, phones and television. Most of them don't function without power. You can see that when a storm hits. Not having power impacts everything that people do, whether it's in their personal life or in their work.
Q: What do you bring to the CEWD board that is different or unique? How can you contribute as a board member?
A: In my own career, I've held a variety of roles, including several operational ones. I have been our chief procurement officer and led our major projects construction group. I also led the decommissioning of a nuclear power plant. All those roles provide great experiences to bring into our HR mission. I think those will be strong experiences to support my role on the CEWD Board as well.
CEWD's mission is an important one. They have an impressive track record. I am looking for ways to help build on the successes of the past to generate more success as we move forward.  I also see my role on the Board as an opportunity to build some new relationships in the industry and am looking forward to that as well.
[Sassy_Social_Share type="floating"]