Center for Energy Workforce Development
Leads Workforce Summit to Fuel Talent Pipeline
"The Workforce Development Summit is a pivotal educational platform for the energy industry to share
resources and expertise to help bolster the talent pipeline,"
– Missy Henriksen, Executive Director, CEWD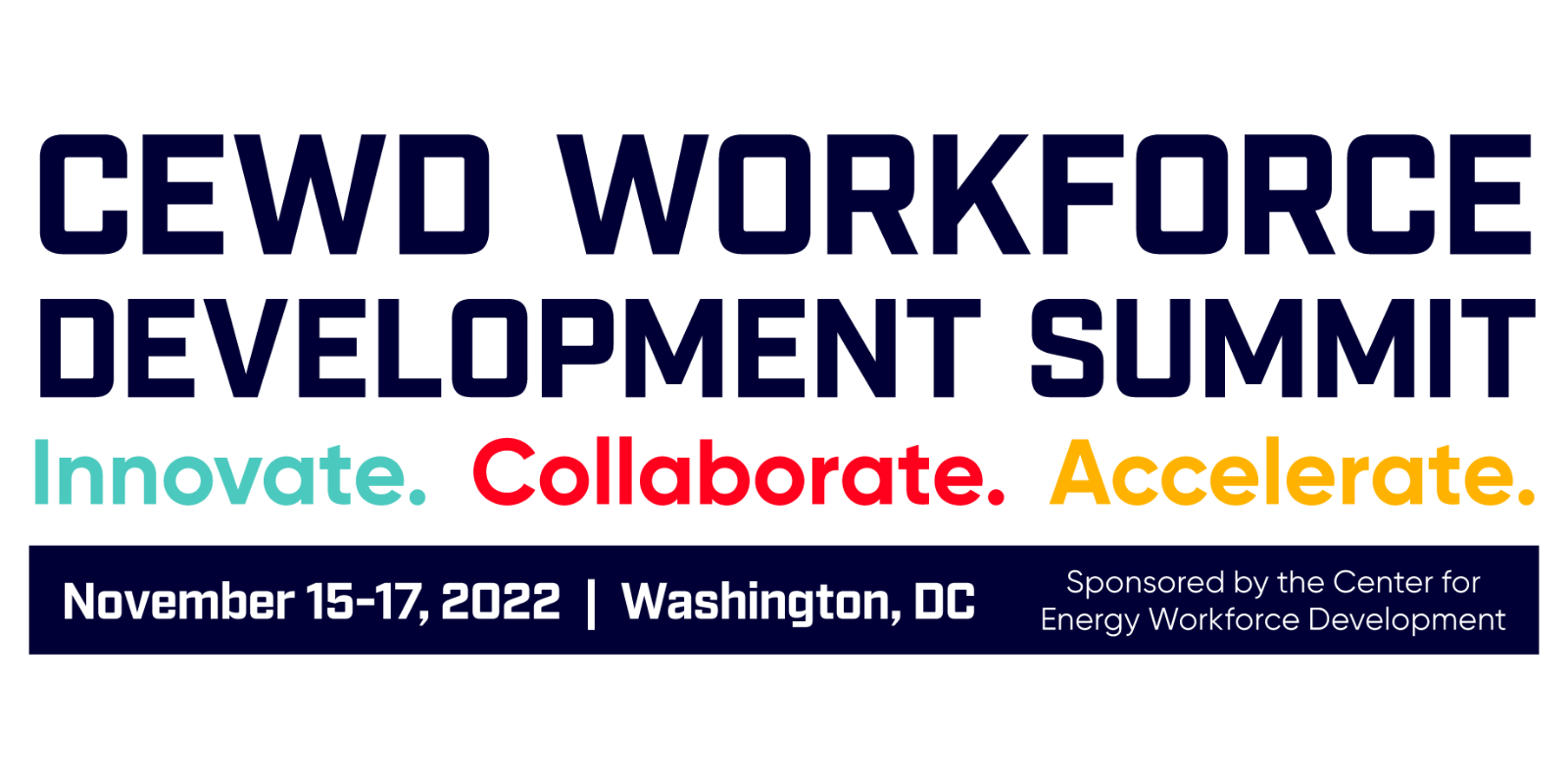 WASHINGTON, October 21, 2022 — The Center for Energy Workforce Development (CEWD) will host its annual Workforce Development Summit, a premier forum for industry leaders focused on strategic workforce planning and best practice sharing, from November 15 to 17 in Washington, D.C. The three- day event will bring together more than 150 energy experts across operations, human resources, talent acquisition, community engagement, training and development, and more to address key initiatives impacting the future of work.
"The Workforce Development Summit is a pivotal educational platform for the energy industry to share resources and expertise to help bolster the talent pipeline," said Missy Henriksen, CEWD's Executive Director. "Attendees will collaborate on important issues related to our industry and walk away from the Summit with an expanded knowledge of workforce development best practices to strengthen their company's priorities in the space."
With three separate educational tracks – Diversity, Equity and Inclusion, Skill Development for the Future Energy Workforce and Community Engagement and the Future of Work – and nearly 30 total sessions, attendees will have the flexibility to choose topics specific to their needs and engage with like-minded leaders looking to advance the industry among the next generation of workers. The robust schedule includes a mix of both formal sessions and round table discussions focused on retention, recruitment and strategic workforce planning in addition to specialized CEWD-led programming to unveil the DE&I Roadmap for Industry Change and a recommended industry-wide career awareness initiative.
The full schedule is linked here. In addition to the program's educational sessions, event highlights will include:
2022 Impact Awards: honoring excellence by individuals, companies and consortia affiliated with CEWD for their leadership of workforce development initiatives that will have a lasting impact on the development of a skilled, diverse talent pipeline for the energy sector.
Salute to 10 Years of Troops to Energy Jobs: a celebratory luncheon to salute the 10th anniversary oft he Troops to Energy Jobs initiative – a crucial CEWD program that has helped veterans and members of the National Guard and Reserves make a successful transition to a rewarding career in energy.
Networking Opportunities: numerous occasions throughout the Summit's three-day schedule – including lunches, receptions and dine-arounds – will offer Summit attendees the chance to interact with colleagues and leaders in the industry to foster conversation and develop new connections.
"This is an event where ideas are turned into action, and I'm grateful for the partners who continue to support these efforts on behalf of the industry," Henriksen continued.
Learn more at https://cewd.org/workforce-development-summit/.
About The Center for Energy Workforce Development
The Center for Energy Workforce Development (CEWD) is a non-profit consortium of electric, natural gas, nuclear, and renewable energy companies, and their associations, committed to the development of a skilled, diverse energy workforce.
###
Media Contact:
Meagan Dominick, Vault Communications
mdominick@vaultcommunications.com
773-369-4255