CEWD Names 2023 Impact Award Honorees in Saluting
Workforce Development Excellence
"The work being done in the people-part of the industry is astonishing. The partnerships companies are forming within their communities – with community-based organizations, educators, workforce systems, and other stakeholders are making a difference…" 
Missy Henriksen
Executive Director – CEWD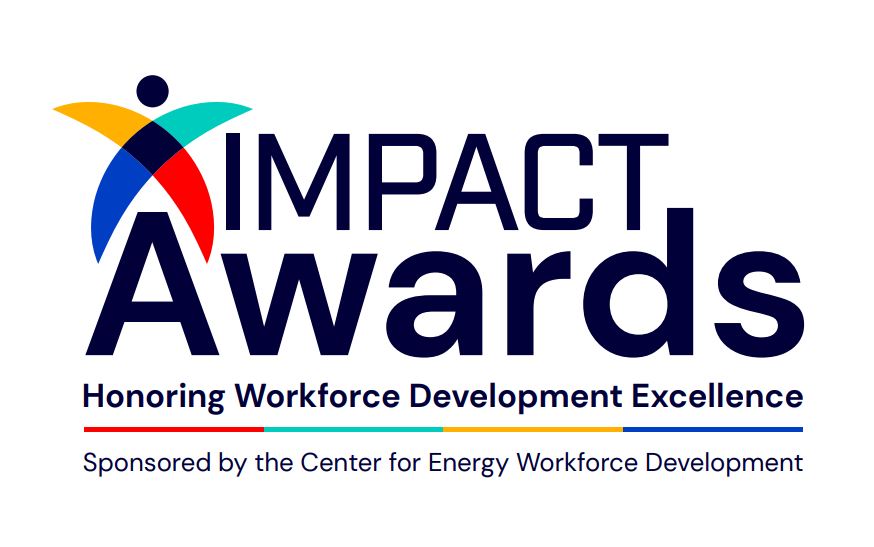 Center for Energy Workforce Development Announces Impact Award Winners

Celebrating workforce development excellence in the energy industry
WASHINGTON, D.C., November 16, 2023 –– The Center for Energy Workforce Development (CEWD) today announced the recipients of the 2023 Impact Awards during its Workforce Development Summit and inaugural Diversity, Equity, and Inclusion Forum. The Impact Awards honor excellence by individuals, companies, and consortia affiliated with CEWD for leading workforce development initiatives that drive the development of a skilled, diverse talent pipeline for energy businesses.
"The work being done in the people-part of the industry is astonishing. The partnerships companies are forming within their communities – with community-based organizations, educators, workforce systems, and other stakeholders are making a difference," noted Missy Henriksen, CEWD's executive director. "Workforce development involves distinct strategies, none of which offer quick solutions to recruiting, training, and retaining talent," Henriksen added. "Today's honorees are shining examples of what it means to make a difference in an industry that powers possibilities."
Award winners are celebrated for excellence in five different areas of leadership across the industry.
The Energy Workforce Consortium Game Changer Award honors one consortium for its involvement in CEWD-supported programs and local programming and outreach to build awareness of energy careers within its footprint. The 2023 recipient is the Wisconsin Energy and Workforce Consortium.
The Community Partnership Award recognizes companies for developing unique connections within the local community that have yielded demonstrated results in fueling the talent pipeline. The 2023 recipient is Constellation.
The Workforce Champion Award celebrates individuals who have shown extraordinary leadership in the workforce development arena by creating meaningful change that will influence, mobilize, and energize a diverse, skilled talent pipeline. Honorees have demonstrated innovation and accomplishments within their company and/or community as well as leadership, mentorship, and stewardship for the industry and its professionals through support for local and regional workforce development activities, state workforce consortia, and/or CEWD initiatives. The 2023 recipient is Laticia Holbert, a Workforce Development Manager with ComEd.
The new Tom Kuhn Veterans Leadership Award was bestowed for the first time. This new award recognizes companies for exemplary initiatives to recruit, hire, and retain veterans in energy jobs. The 2023 recipients are MidAmerican Energy and Southern Company.
The Chairman's Award for Workforce Development Leadership is CEWD's highest honor and recognizes companies for excellence in general workforce development leadership, including excellence in promotion of 21st century energy careers; achievements in diversity, equity and inclusion; innovations in training; and enhancements to workplace culture and operations to retain a strong workforce. The 2023 recipient is Exelon. Exelon has received this honor for the past three years, every year the award has been given.
A panel of independent energy industry professionals as well as nonprofit and workforce development leaders reviewed and selected award recipients from a competitive pool of nominations. To learn more about CEWD's Impact Awards and other energy industry workforce development initiatives, visit www.cewd.org.
About The Center for Energy Workforce Development
The Center for Energy Workforce Development (CEWD) is a non-profit consortium of electric, natural gas, nuclear, and renewable energy companies, and their associations, committed to the development of a skilled, diverse energy workforce.
 ###