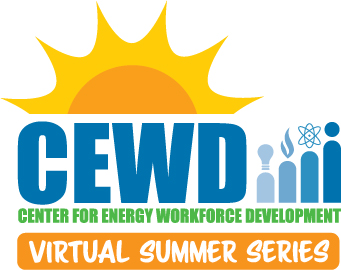 COVID-19 forced us to cancel our spring and summer Region Meetings but that doesn't mean an end to the learning and networking they traditionally provide! CEWD is pleased to launch the Virtual Summer Series, programs focused on the future of work in the energy industry.
Each 90-minute interactive webinar-style session will offer presentations by subject matter experts with plenty of time built-in for engagement among participants to ensure pressing questions are addressed within the gathered community. We hope you and other information-seekers from your company will join us for CEWD's Virtual Summer Series. There is no registration fee for participants from CEWD member companies.
Unable to attend a live session? No problem! All of our webinars are recorded and stored in our Webinar Archive for CEWD members to watch over, and over, again!
Recruiting Veterans During and Following COVID-19
July 29, 4:00pm EDT
Register Here
COVID-19 has required companies to change the way they recruit.  The industry is still hiring, and job seekers are still looking for work. Service members are still transitioning from the military, unemployed veterans are still looking for work, and there are veterans that are completing their education. During this time, more than ever, it is more important to stay connected with veteran organizations and to continue to create awareness of the industry's essential, vital careers. Organizations must pivot and adjust their recruiting strategies and find creative ways of finding military talent. DOL's Veterans' Employment and Training Service, Hiring our Heroes, Academy Women and Student Veterans of America will share their strategies to help companies find veterans/ transitioning service members. They will joined by panelists from energy companies who have implemented some creative strategies during the pandemic.
Insights on Improving Your Company's Culture and Organizational Health for the Next Normal with Thought Leaders from McKinsey
July 15, 4:00pm EDT
Register Here
Like every other industry, the utility sector is facing major disruptions to their operations, workforce, and plans due to the coronavirus pandemic. NOW is the time to improve your culture or "organizational health" – not only to survive the crisis, but also to build strength for the next normal. During this webinar, focused on the future of work, we will talk about actions utilities and industry contractors should  take now to protect and strengthen organizational health.
The program will be led by several of McKinsey's leaders in workplace culture including Brooke Weddle, Blair Epstein, Andrea Alexander, and Mengwei Luo.
Moving to Phase Two of Creating and Sustaining a Remote Workforce in the Energy Industry
June 24, 4:00pm EDT
This session will feature Jack Nilles, known as the "Father of Telework" addressing topics on everyone's mind about the future of remote work in the energy industry. Nilles, who has authored books including Making Telecommuting Happen and Managing Telework: Strategies for Managing the Virtual Workforce, will kick the discussion off sharing take-aways learned from working with companies and governments across the world creating and sustaining telework teams. Then, industry professionals, Christy Kenny, PSEG's Head of Talent Management, and Amanda Wagenschutz, Executive Directors of Employee Experience Delivery at Consumers Energy, will share how their companies are planning for a sustained telework culture. Following panel sharing, program participants will be encouraged to ask questions of the panelists and share information with one another through facilitated networking.
Delivering a Valuable Virtual Internship Experience for Supervisors and Mentors
June 17, 4:00pm EDT
This summer and potentially beyond many employers are asking themselves just "how are they going to deliver a valuable virtual summer internship program?" This interactive webinar is designed to help you and your organization build a win-win virtual internship program. Based on in-depth research into the successful management of internship programs, you will leave the session with the tools to deliver a valuable and meaningful virtual internships program. The presentation will include detailed statistics from proprietary research, as well as best practices and practical steps you can take to implement and benefit from a virtual internship initiative – regardless of the size of your company!
The presentation will be led by Dr. Robert Shindell, President & CEO of Intern Bridge, a premier experiential education research and firm, who is nationally recognized for helping employers and educational institutions build, maintain, sustain and grow internships and other forms of experiential education programs and initiatives. He is one of the most sought-after consultants, speakers and thought leaders in the country on internships and experiential learning, entry-talent acquisition, workforce development and career services effectiveness.
He will be joined by panelists from energy companies who will address steps they have taken to ensure meaningful summer experiences.  Dr. Shindell and industry professionals will answer questions and encourage experience sharing among all participants.
Watch for additional information about these programs coming to you later this summer.
Recruiting Veterans During and Following COVID-19
Creating Powerful Partnerships Between Educators and Utilities
Putting Your Best Foot Forward with Virtual Recruiting and Hiring
Summer Season Wrap-Up: Lessons Learned from Virtual Internships