EnergyCareers 2020 will be held on October 21st from 1:00 p.m. – 6:00 p.m. EDT (10:00 a.m. – 3:00 p.m. PDT). Come for the day or select a few blocks of time and join us for the sessions and experiences that interest you most. Rest assured, the day will be powerful, energizing, and it will fuel your interest in energy sector careers. 
General Session and Industry Overview
This dynamic general session will open your eyes to what the industry has to offer. Looking for high tech jobs? We've got those. Careers that enable you to work with your hands? We've got those, too. The energy industry has hundreds of thousands of men and women working in essential jobs, benefiting from incredible training and career advancement opportunities, and doing important work that supports the environment and local communities. Join us to discover careers in energy!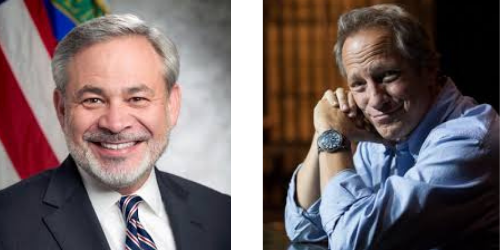 The Honorable Dan Brouillette, Secretary, U.S. Department of Energy,
and Mike Rowe noted television host and advocate for skilled trade jobs
will offer opening remarks.
Breakout Session: Students, Discover Careers in Energy!
Students – Come see why careers in energy are so powerful. Learn about opportunities for those looking for STEM connections and those who want to work outside, away from a desk. You may think you know energy, but we can guarantee you have no idea about all the career paths this industry offers! Hear from students who had internships this summer and learn what experiences they enjoyed and hear from those who recently graduated to discover what they like best about the work they do. Our panelists will be eager for your questions!
Breakout Session: Career Changers – How to Get Started in a Career in Energy
In a job that's not right for you? Recently furloughed because of the pandemic? Energy employers are eager to help career-seekers transfer old skills to new opportunities. Experiences in technology, the trades, customer service, and so many other fundamentals offer ideal foundations to ready you for new opportunities in energy. This session, led by panelists who successfully transitioned from other industries, will address how they made the leap, the training and skill development that was provided, how their new careers have grown, and advice on making a career transition. This session will also offer insight for formerly incarcerated persons.
Breakout Session: Women in Energy Careers
Many women have never considered a career in energy. We are ready to change that. There is a place for everyone in the energy sector, those ready to climb poles and those who want to climb the corporate ladder. This session will be led by women who are making their mark infield positions and in C-Suite roles. They will address topics including work-life balance, professional growth, inclusive work environments, role models within the industry, and more.
Breakout Session: Diversity in Energy Careers
Energy employers are committed to ensuring their workforce reflects the communities and customers they serve, and most are actively looking to bring more diverse perspectives, experiences, and voices to their organizations. This session will address industry employment, through the lens of diversity. Hear from representatives of the American Association of Blacks in Energy, Asian-Americans in Energy, Hispanics in Energy as we showcase life-changing, difference-making careers in energy.
Breakout Session: Veterans
Current industry employees who are veterans will highlight ideal careers for military personnel within the industry, discuss transferable skills, and highlight alignment in culture between military and careers energy. They will also address free services available to support veterans interested in finding a career in energy through the industry's Troops to Energy Jobs program.
Breakout Session: LGBTQ+ in Energy Careers
LGBTQ+ employees and allies will host a session to discuss their professional experience and provide insight into the industry's efforts to support inclusive working environments for all. Industry professionals of various career levels and job functions will share their passion for their work, their comfort in bringing their full selves to work, how they are supported by their companies, and why it's important to welcome others from the LGBTQ+ community into careers in energy. Panelists will welcome the opportunity to field questions from all session participants.
Unions in Energy
This session will bring together leaders and members of the International Brotherhood of Electrical Workers (IBEW) and North America's Building Trades Unions (NABTU) to address careers in energy and offer guidance on how to connect with unions that represent the industry in construction, power plant operations, power line work, plumbing, pipefitting, electric, refueling, and more. Discover what unions have to offer those looking to make career and life changes. Learn about apprenticeships, training, and safety, how to open doors, and the relationships between labor and management. Students, we've got you covered, too! This session will help you explore pre-apprenticeship programs that can start you on your way to important, fulfilling, and stable work in the energy industry.
Exhibits and Career Fair
Join us for a stroll through the virtual exhibit hall and career fair. Visit with employers in your area to learn more about their companies and opportunities for employment or internships now or down the road. Representatives from the industry's specialty groups to talk about mentoring programs and resources to connect career-seekers with energy employers. If you are interested in talking with employers who are hiring, watch for information in September on how to participate in the career fair.
Chat Rooms
Stop by one of the specialty chat rooms to interact "real-time" with men and women who work in the industry today. Explore career paths, see how your current or past professional experiences may readily transition to a career in energy, ask questions about "a day in the life of an energy professional," or how to get started. Students, we've got a special chat room just for you hosted by recent graduates and fellow students who have interned in the industry. Miss a specialty session or have general questions? Our primary chat room will be open all day.            
2:00-6:00 p.m Chat Room: Exploring Careers in Energy and How to Get Started
2:00-3:00 p.m Chat Room: Exploring Diversity in Energy Careers
2:00-3:00 p.m. Chat Room: Connecting Veterans to Careers in Energy
3:00-4:00 p.m. Chat Room: Student Conversations to Explore Careers in Energy
4:00-5:00 p.m. Chat Room: Exploring Field Jobs in Energy
5:00-6:00 p.m. Chat Room: Let's Talk about Gas, Electric, and Nuclear Careers
Sponsor Gallery
Grab some popcorn or a few theater worthy snacks and binge-watch videos about careers in energy offered by industry employers.
Resource Room
Stop by the resource room to collect fliers, facts sheets, and a host of information to help you get connected to careers in energy.