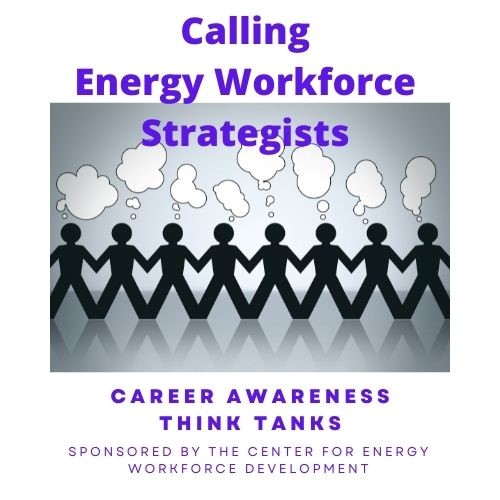 CEWD To Host Career Awareness Think Tanks
In response to growing concerns about where to find talent and how to connect with the energy industry's future workforce, CEWD is hosting a series of Career Awareness Think Tanks. These facilitated sessions will explore how the energy industry can collaborate to create an effective, long-term PR strategy that promotes energy careers.
In short, the sessions will explore how to:
Build awareness for careers in energy
Build awareness for the lifestyles that careers in energy enable
Position CEWD and its partners in the energy industry as leading advocates for workforce development across all sectors
Fuel the talent pipeline
Increase pride and improve image within the industry
The take-aways from the sessions will lead to the development of a Strategic Plan for Career Awareness that will be shared in November, at CEWD's Workforce Development Summit. (LINK)
Dates
The Think Tanks will be held virtually during the dates and times listed below. Each session will probe in a different area, so participants are encouraged to attend all Think Tank programs or as many as feasible.
July 27
August 11
August 25
September 8
Sessions will be held from 3:00-4:30 ET/2:00-3:30 CT/1:00-2:30 MT/12:00-1:30 PT
Participation Recommendations
Think Tank participation is recommended for those who have talent recruitment responsibilities, generally at a Vice President or similar strategic level. Representatives from corporate communications are also encouraged to attend. In addition, to ensure our "target" audience is represented in the visioning, each registrant is encouraged to bring a newly hired individual to the Think Thanks, especially those from the skilled trades.
Registration

There is no fee to participate in the Think Tanks. Please provide the name and contact information of those who will represent your company here. You will receive a calendar invitation with details on how to participate in the meeting.
Planning Team
CEWD is grateful to the following individuals and organizations for their support in structuring the Think Tanks.
Vivek Arora, Mears
Amy Best, Exelon
Pete Fojtik, Michels
Rick Riley, Entergy
J.D. Street, CenterPoint Energy
In collaboration with the American Gas Association, Distribution Contractors Association, Northeast Gas, Association, and the Southern Gas Association.